With millions of active users exchanging content every day, Snapchat is one of the most well-known social media networks worldwide. The procedure can be fairly difficult for firms attempting to use this platform to contact new clients and increase brand awareness. The Snapchat Business Manager steps in to help with that.
The Snapchat Business Manager is a tool created to assist companies in better managing their Snapchat advertising campaigns. It offers a number of tools that can assist companies in identifying target audiences, monitoring the effectiveness of their campaigns, and maximizing their ad expenditure to get the greatest outcomes.
Some of the key benefits of using the Snapchat Business Manager for your business include:
Improved Audience Targeting: 
The Snapchat Business Manager gives companies the ability to target particular audiences based on demographics, interests, habits, and more. By making sure those who are relevant see your ads, you can raise the likelihood of interaction and conversion.
Enhanced Campaign Tracking: 
The Snapchat Business Manager allows you to track important performance indicators like impressions, clicks, and conversions, providing you with insightful data on the effectiveness of your campaigns. With the help of this data, you can gradually enhance the effectiveness of your efforts and raise your overall return on investment. (ROI).
Enhanced Cost-Effectiveness: 
You can maximize your ad spend and get better results for less money by utilizing the Snapchat Business Manager to target your advertisements more precisely and monitor the success of your campaigns.
Simplified Campaign Management: 
The Snapchat Business Manager offers a user-friendly interface that makes it simple to design, roll out, and control your advertising campaigns. Your campaigns can be swiftly and easily set up, and you can make changes as necessary to make sure they're operating at their best.
Tips for Using Snapchat and Other Social Media Sites to Boost Your Brand
You have a number of different options for utilizing Snapchat and other social media platforms to increase your brand's online exposure, in addition to using the Snap Business Manager. Consider the following advice:
Be Consistent: 
In order to succeed with social media marketing, you must be consistent. To reach your target audience while they are most active, make sure to post frequently. By doing this, you can make sure that the right audience sees your material and interacts with it.
Be Original / Creative: 
Social media is all about standing out from the crowd. To capture users' attention and make your brand memorable, utilise imaginative, attention-grabbing images and messages.
Be Engaging: 
Social media is a two-way discussion, so be engaging. By posing queries, conducting polls, and reacting to user feedback and messages, you may increase user interaction with your content. For greater reach, use the Snapchat business geofilter.
Monitor Your Performance: 
Check your social media numbers frequently to see what's effective and what isn't. Utilize this knowledge to change your tactics and gradually enhance your outcomes.
Exploring Other Social Media Platforms for Marketing
With over 280 million daily active users, Snapchat is without a doubt one of the most well-liked social media sites for teenagers. But because of the fiercer competition in the digital sphere, companies are now looking for substitute channels to connect with their target markets. In this post, we'll look at several additional marketing-focused websites similar to Snapchat and the demographics of their users.
TikTok
On the social media site TikTok, users may make and share brief films. With over 1 billion active users each month, the app has swiftly gained popularity as a platform for brand advertising. With 62% of users under the age of 29, TikTok's user demographic skews younger. Furthermore, 60% of TikTok users are women.
Instagram
With over 1 billion monthly active users, Instagram is a photo and video sharing app. Teenagers to senior citizens make up the platform's user base, which is diversified. However, 33% of Instagram users are between the ages of 25 and 34, and 25% are between the ages of 18 and 24, suggesting that the platform caters to a younger population. Furthermore, females make up 57% of Instagram users.
Facebook
With over 2.8 billion monthly active users, Facebook is the most popular social media site. Teenagers to senior citizens make up the platform's user base, which is diversified. With 72% of users over the age of 30, Facebook's user demography does, however, lean towards an older audience. Furthermore, 54% of Facebook users are women.
Twitter
Users of the microblogging site Twitter can post and share tweets, which are brief messages. The site has more than 330 million active users each month. With 38% of its users being between the ages of 18 and 29, Twitter's user base skews younger. In addition, women make up 42% of Twitter users.
Pinterest
Users of the social media site Pinterest can find, save, and share images and videos. The site has more than 450 million active users each month. With 71% of users being female, Pinterest's user demographic leans more heavily toward a female audience. Additionally, the demographic of Pinterest's users spans a variety of ages rather evenly.
A Step-by-Step Guide to Setting Up and Running Effective Ads on Snapchat
It's extremely simple to set up a Snapchat advertising campaign. The general measures to take are listed below:
Establishing a Snapchat Ads Manager account By entering your company information and payment details on the Snapchat Business website, you can create an account.
Pick an advertising goal: 
Choose the suitable aim that supports your advertising goals after determining your goals. Snapchat offers a variety of advertising goals, such as app downloads, website visits, and video views.
Specify your target market: 
Consider your target audience's age, gender, geography, hobbies, and behaviors while choosing them. The demographic Insights tool from Snapchat can help you choose and target the ideal demographic for your advertising campaign.
Set your ad budget:
The budget for the advertising campaign should be decided upon, and daily or overall spending caps should be established. For ad distribution optimization, you can also select between automatic and manual bidding.
Create your ad creative
: 
Create the creative for your advertisement: Choose an ad format, such as Snap advertising, Story ads, or AR Lenses, and then create your ad creative accordingly. Create great ad creative with the help of the templates and instructions provided by Snapchat.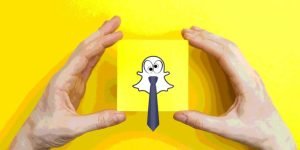 Submit your ad for review:  
Send your ad to Snapchat for review after you've finished creating it. If your ad is approved, it will be online after the review process has been completed, which usually takes 24 hours.
Monitor and optimize your ad campaign:
Follow up on and improve your advertising campaign: Utilizing Snapchat's Ads Manager, monitor the effectiveness of your advertising campaign and make the required modifications to improve your outcomes.
Setting up a Snapchat ad campaign entails defining your advertising objectives, selecting the correct audience to target, developing compelling ad content, and tracking your results to make any necessary adjustments. Snapchat advertising can be a useful addition to your marketing mix if they are planned and executed properly.
Conclusion
The Snapchat Business Manager is a useful tool for companies wishing to use this well-known social media network to connect with potential clients and increase brand recognition. Businesses may improve the effectiveness of their advertising campaigns while maximizing their advertising budget by utilizing the targeting, tracking, and campaign management tools of the Business Manager.
Businesses should concentrate on being consistent, imaginative, and engaged on social media in addition to using the Snapchat Business Manager to strengthen their brand's online profile. Businesses can make sure they're getting the most out of their social media marketing efforts by keeping an eye on their performance and revising their plan as necessary.